What to do at Lake Idro
The Via Ferratas Sasse, Crench, Ginestre and Fregio
Four via ferratas, four panoramas and four levels of difficulty. Whether you are an expert climber or not, you will find the right via ferrata for you here!
Have you heard of the Via Ferrata Sasse? This via ferrata is located on the small strip of Trentino and runs along a stretch of the east side between the villages of Vesta and Baitoni and is therefore very close to Camping Miralago.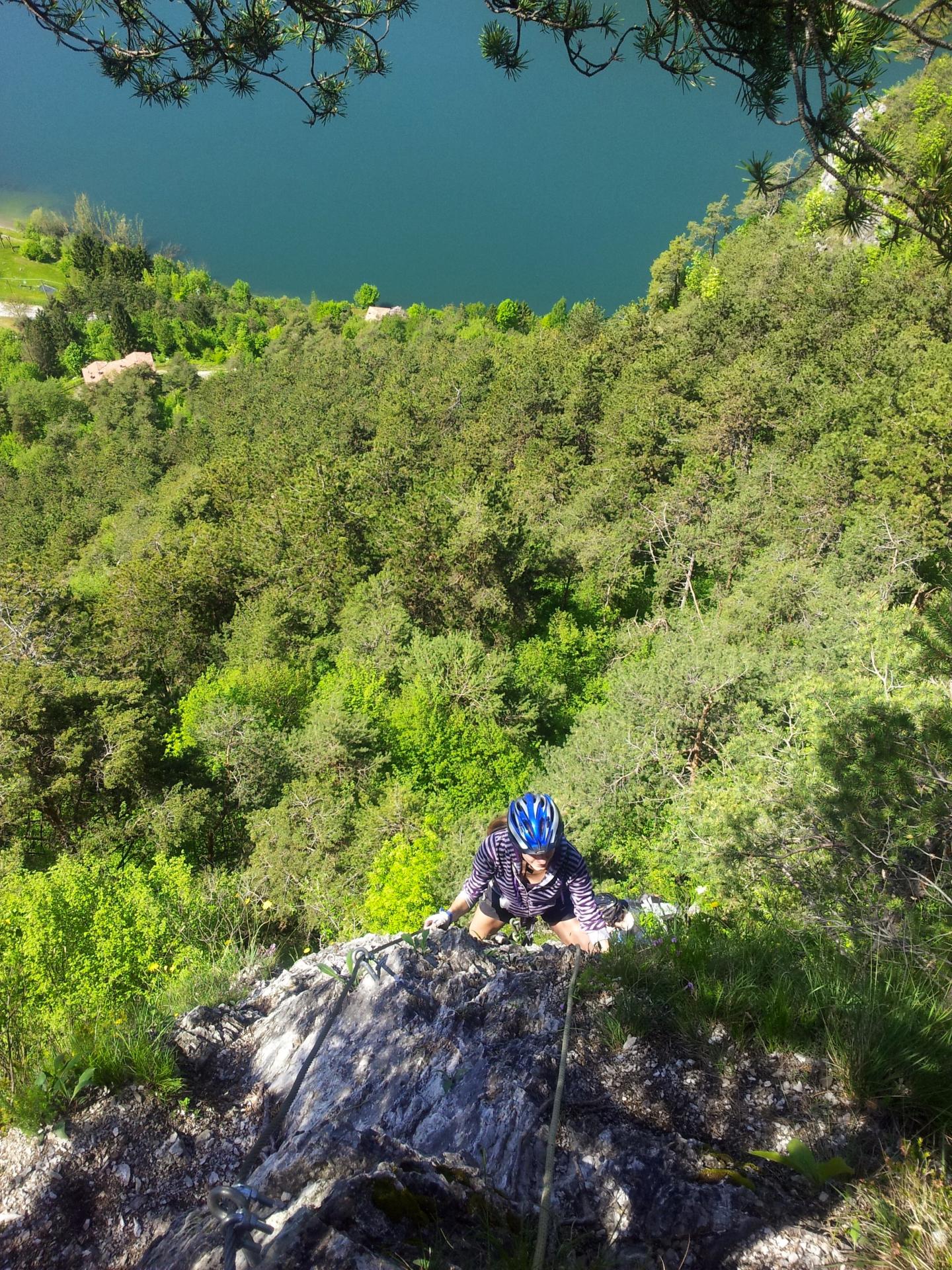 A fascinating and very panoramic route of 4,700 meters that connects the beach of Vesta to that of Baitoni: Of the 4,700 meters, 2,400 meters are via ferrata which can be covered in about 2 hours and 40 minutes.
The first section of the Via Ferrata Sasse runs downhill and leads to the level of the lake. A path begins from there with a cable handrail, followed by a succession of rock jumps, a suspension bridge, vertical walls with metal frames, up and down paths to fantastic viewpoints. An excellent route with limited exposure and technical difficulties to approach this sport. The via ferrata can be climbed in both directions.
The Via Ferrata Crench is a moderate difficulty route near the village of Crone, that takes about 1 hour and 15 minutes and develops in a beautiful natural setting. As you climb, you can stop to catch your breath and admire the magnificent views of Lake Idro behind you.
The Via Ferrata Ginestre instead is a short but challenging via ferrata which is located near the village of Vesta. Due to its proximity and shortness, it is often combined with the Via Ferrata Fregio, a short but very demanding route.
Given the proximity of the via ferratas, we recommend that the professional athletes among you combine several via ferratas to create a satisfying and challenging route.
In the summer months, the return can also be made using the navigation service.
Ask for information